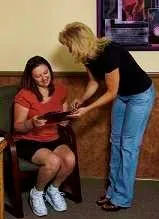 On your first visit, Dr. Hutchens will welcome you and will have you fill out some required paperwork, and collect your insurance information, if necessary. Her required forms will help her gain some information about yourself and your condition. Filling out your paperwork prior to the visit is preferable if you are able to download her forms.
Dr. Hutchens will then talk with you and ask you some specific questions regarding your condition to determine if chiropractic care may be of benefit to you. If Dr. Hutchens can help you, she will let you know. If she cannot help you, she will refer you to a doctor that will be able to help you the most. Nothing will be done in our office without your consent.
She encourages that you come prepared to your first visit with any questions or concerns you may have regarding your condition or chiropractic care. Expect your first visit with Dr. Hutchens to last about an hour.
Physical Examination
After the consultation with Dr. Hutchens, you will have a chiropractic examination. This examination includes range of motion, orthopedic and neurological tests, postural evaluation and any other physical exams necessary to fully evaluate your condition.

This examination is necessary on the first visit for Dr. Hutchens to fully evaluate your pain and condition so that appropriate treatment options are considered for you.
X-Ray
Depending on the outcome of the consultation and physical examination, x-rays may be recommended by Dr. Hutchens to gain a complete understanding of your condition. This will also dictate Dr. Hutchens' treatment plan for you.
Dr. Hutchens will refer you to Health Images to get your x-rays completed.
Treatment
Most patients will always receive treatment on the first visit. That treatment may vary depending on the pain level and the condition of the patient.
Most patients also experience some kind of relief after one or two visits. Again, it's important to note that everyone responds differently. Some patients respond quicker. Some respond slower. The faster you come in after an injury, the faster the results will show.
Treatment with Dr. Hutchens can consist of many things:
Chiropractic Spinal and Extremity adjusting through a variety of gentle and assertive techniques
Cranial Adjusting which feels like a head massage
Muscles Releases to the area of injury (helps the adjustment hold longer!)
Therapies for increased circulation, decreased inflammation and pain
Infra-Red Light Cold Laser Therapy
Ultrasound
Electrical stimulation
Stretching the muscles (It's always nicer to have someone else stretch you!)
Recommendation of core strengthening exercises (She's a Pilates Instructor.)
Life style changes which could incorporate ergonomics at work or at home or in the car, nutrition and exercise.